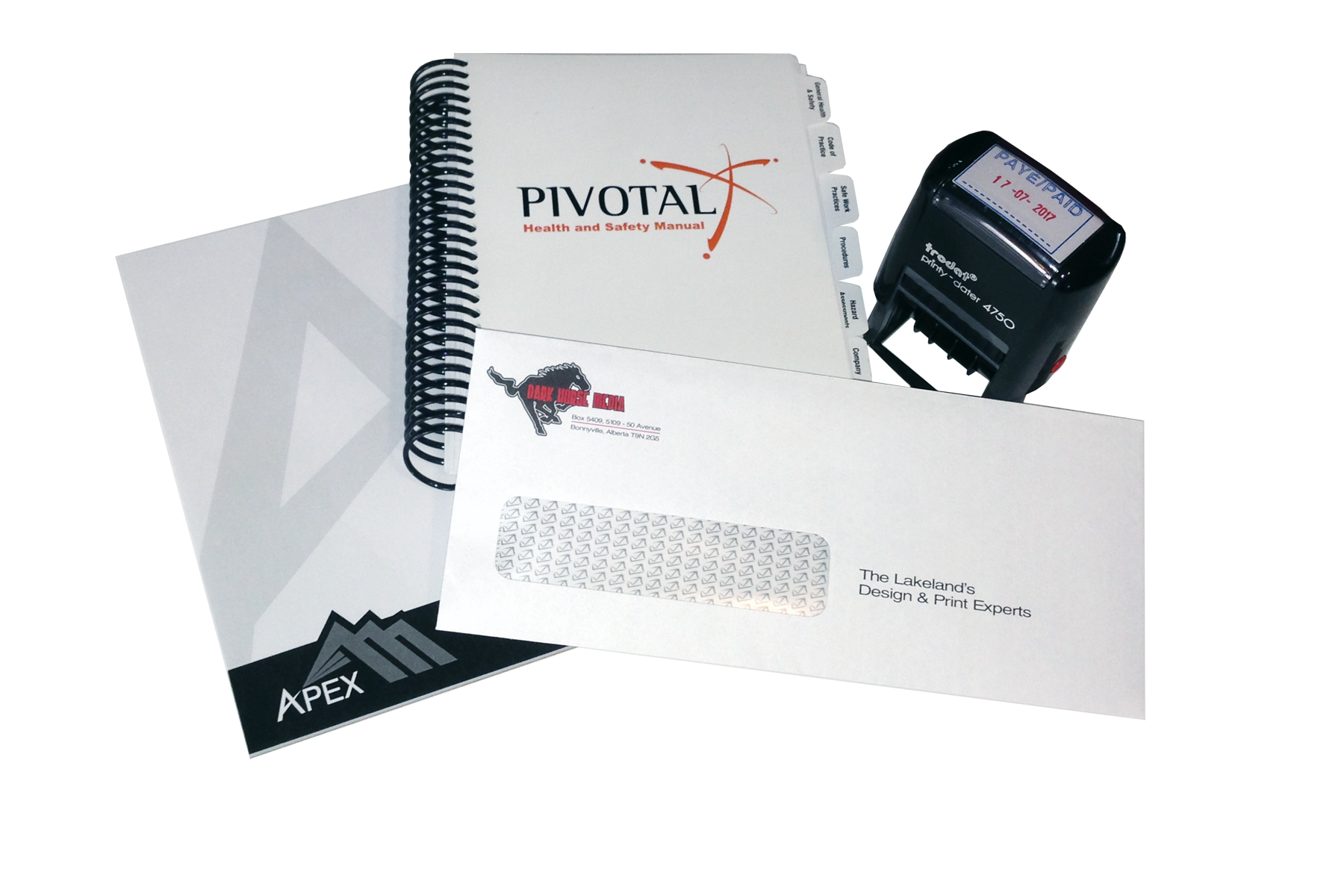 EVERYDAY OFFICE ESSENTIALS
Business Cards
Even in the electronic age, the business card still reigns supreme as your go-to networking piece. We've got all the bases covered – from our quick + easy full colour digitally printed card to stand out specialty specs like plastic lamination, die cut shapes, foil embossing + more.
Envelopes
Send your documents out the door in style with customized envelopes in every shape + style. Competitively priced with the plain janes from the office supply shop, you'll wonder why you ever went without! We've got plenty of unique ideas to help make your mail magnificent. Ask about our super popular line of "peel + stick" closure envelopes.
Cheques
We print both manual + computer laser cheques with fully compliant security features. We have all sorts of great options to make your cheques look big league, from logo customization + colour inks to unique watermarks + more – all compatible with your accounting software. We can even hook you up with a binder to hold them + a personalized deposit book for your receivables!
Of course, we've got WAAAYYYY more stuff to help your office run smoothly. If its paper … we can do it. Its that simple. Here are a few of our other popular items:
Letterhead
Notepads / Sticky Notes
Appointment Cards
Manuals & Handbooks
Custom Stamps
Labels + Magnets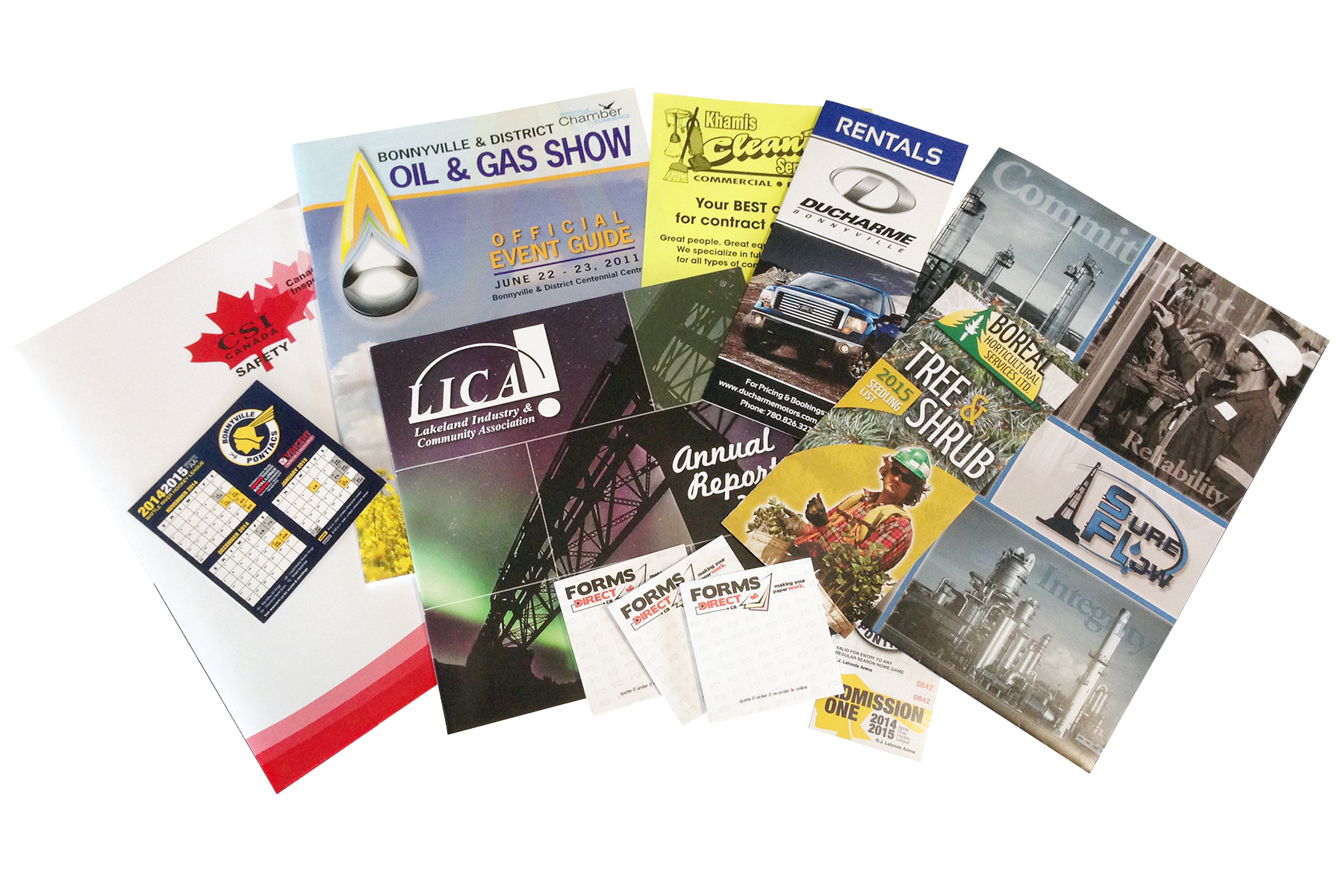 MARKETING + PROMO MATERIALS
Brochures
Classic? Yes. Boring? NO! Unique paper stocks + sizes can add some spice, + remember – even your traditional trifold will dazzle when the right design is in play.
Posters & Flyers
Get your message to the masses in vibrant full colour on a variety of stocks + sizes. Whether its an event poster or a simple mail flyer, we'll make sure it pops!
Presentation Folders
Professional looking + functional, these folders hold letter-sized documents in either 1 or 2 interior pockets + have room for multiple business card slots. Step up your game even further with die cut shapes or high end finishes such as foil embossing.
Notepads
Everyone loves notepads! Us too! We design + print all sorts of them. From the functional (ISO pads + graph paper pads) to the fun, giveaway variety. We have access to all sorts of paper stocks + will cook them up to your specific liking in terms of design, ink colours, page count + bindery.
Print collateral comes in all shapes + sizes. We love custom stuff! Here are some other common projects we'd happily tackle for you:
Postcards
Invitations
Sticky Notes
Calendars
Event Programs
Gift Certificates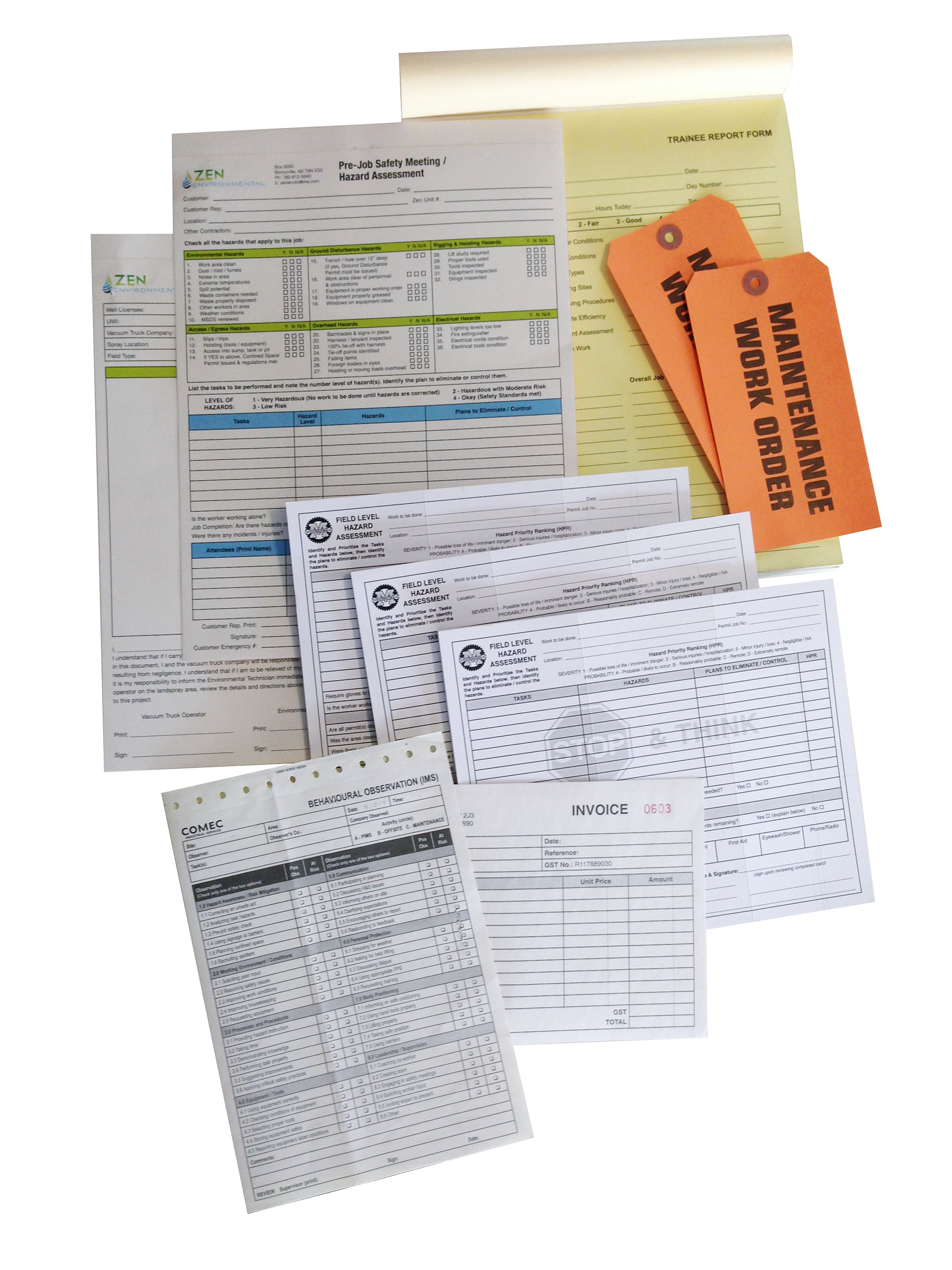 CARBONLESS FORMS + CONSUMABLES
CARBONLESS FORMS + CONSUMABLES
Business forms are pretty much our life. Don't laugh – its true. It might not sound all that glamorous, but we LOVE it! For us, nothing is more satisfying than helping a client build a form that improves their work flow + makes them more efficient at what they do. Paperwork shouldn't be a chore! We've been designing + printing custom forms for over a decade and we're pretty darn good at it. Marry our design experience with state-of-the-art print technology + you have yourself a pro portfolio of paper consumables sitting on the dash of your truck.
We are able to produce up to six part non-carbon reproduction (NCR) on various stock weights + offer a myriad of features, such as full colour inks, numbering, barcoding, perforating, hole punching, booking, cover printing + more.
For your consumable paper forms that don't require reproductions, we offer a great selection of paper stocks, virtually all of our same add-on features + then various bindery options (gummed notepad, stapled edge, etc.).
We can build anything! Don't know what you need?
We've got a powerhouse roster of form templates to help get you started!
Invoices
Receipts
Delivery Slips
Time Sheets
Bill of Ladings
FLHA
Job Observations
Shipping Documents
Pressure Tickets
Vacuum Tickets
Job Safety Analysis
Maintenance Reports
Fluid Transfer Tickets
Work Orders
Purchase Orders
Packing Slips
Work Tickets
Driver Logs
Hazard IDs
Vehicle Inspections
Manifests
Flushby Tickets
Safety Meetings
Worksite Inspections
Equipment Inspections
ISO Paper Pads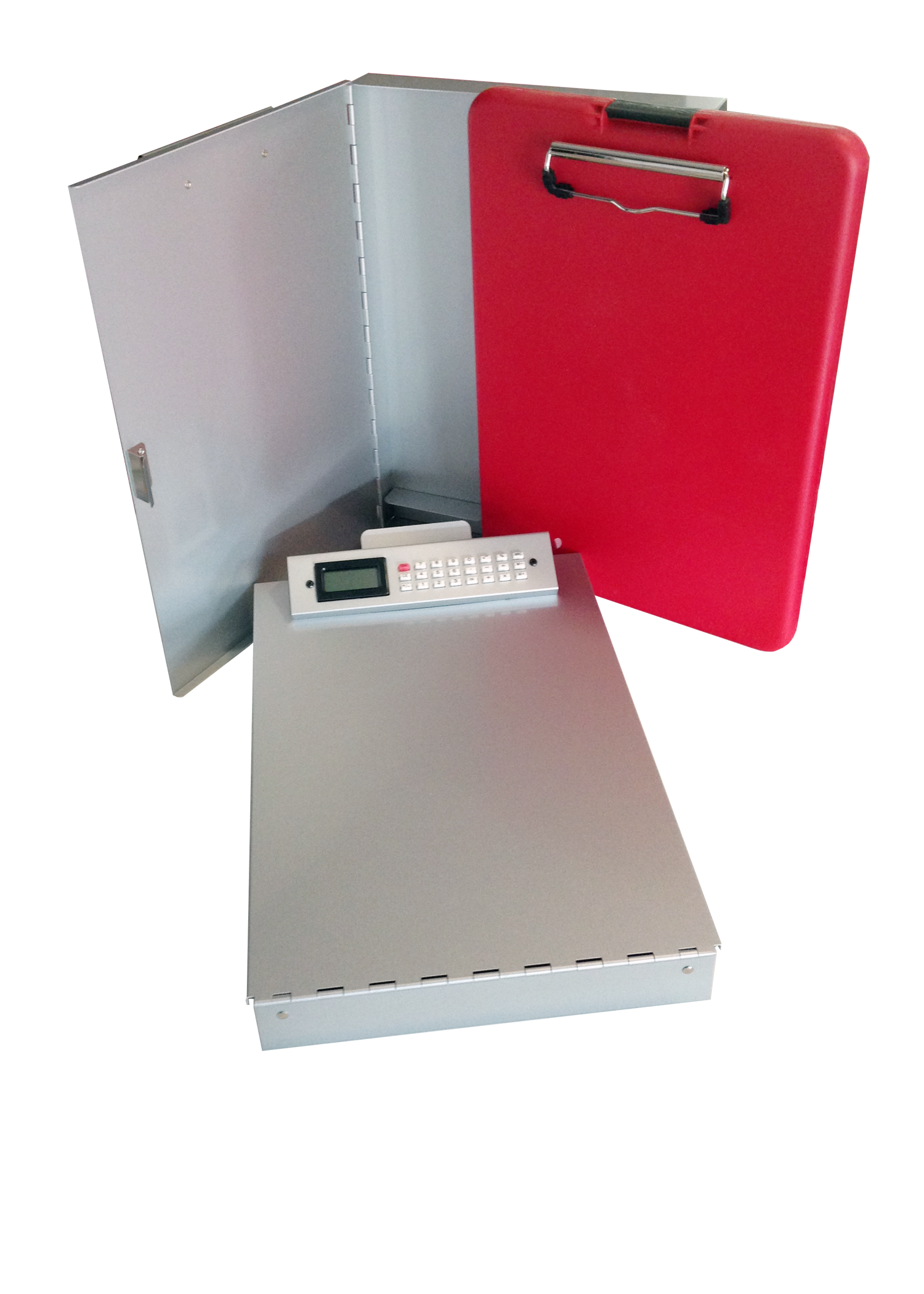 Graphic Design
We proudly design all the paper product we sell. Heck, we even do design for materials we DON'T sell. Love our creativity? Want to make sure your brand remains consistent across all applications? We will gladly whip up a logo, artwork for signage, tradeshow displays, vehicle graphics, even web site elements, then put you in touch with a local vendor to get the job done right.
Photocopy + Print Services
Need some super quick flyers or photocopies? We couldn't call ourselves a print shop if we didn't do that stuff! Our Xerox WorkCentre 7830 prints up to 11" x 17" page size in full colour. We can help! And we can do it fast.
Photo Finishing
We print high end photography stuff too. Photographic print enlargements in all sizes as well as display pieces such as canvases + plaques.
Off-The-Shelf Items
Custom print is our bread + butter, but we do carry a few retail items that make life easier for our clients. We stock a full line of aluminum form holders + steering wheel clipboards to help keep your paperwork neat + organized while in the field.